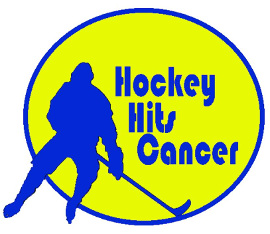 Hockey Hits Cancer is hosting its 6th annual adult hockey tournament on the March 13-15 weekend. This year, there will be more than 20 teams competing and supporting throughout the weekend to help reach the fundraising goal of $30,000.
Hockey Hits Cancer is an event dedicated to the memory of Meaford locals Anne and Alex Fleming, two extraordinary people who left a mark on their grandchildren, children, and their town. Both Anne and Alex adored their grandchildren; therefore, these same grandchildren created Hockey Hits Cancer in 2015 and have run various events throughout the past five years.
The weekend is filled with laughs, family, friends, and charitable support for A Child's Voice Foundation, specifically their Angel Hair for Kids Program. All proceeds from the weekend go to the Angel Hair for Kids Program. A Child's Voice Foundation was formed to support children going through treatment, to provide the necessary support, physically and financially, families need while their child goes through rigorous treatment, from setting a child up with a proper wig and hair care, to providing financial support. A Child's Voice Foundation was formed in 1995.
This year's tournament begins on Friday, March 13, at 6 p.m. The raffle table and prizes will open around 4:30 p.m. that same day. The raffle table will be open until Saturday, March 14 at 8 p.m. Be sure to get down to the arena to ensure your opportunity to win one of the many wonderful prizes, including a Gift of Flight for Two (2) from WestJet to anywhere in North America, the Caribbean, or Great Britain.
"Among all of the support and donations received through the five-six years of hosting events, Hockey Hits Cancer would like to recognize a couple of people who have been around since the beginning. Helping to volunteer and put the tournament together each and every year: Susan Reid, David Fleming, Michelle Fleming, Ashley Fleming, Hudson Fleming, Anne Brown, Nathan Marshall, Chad Harvey, Emily Birr, Kirsten Harvey, Mathew Winch, Pat Boothby, Cindy Bedford, Paul Bedford, Karen Marshall, Trevor Marshall, Steve Brown, Connor Long, Nick Bowins, A Child's Voice Foundation, and WestJet Canada," said Mackenzie Fleming. "Thank you everyone who has supported throughout the years, we look forward to many more years ahead, including new events coming soon!"