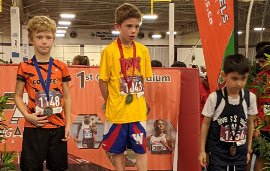 The Flying Angels Track Club hosted a prep meet at York University on Sunday, February 23, as part of the Minor Track Association winter Track and Field program.
Several track clubs from across the Toronto GTA area, Brampton, Pickering, Hamilton, Burlington, London, Milton, Brantford, Newmarket, Barrie, and Port Elgin were in attendance, along with 11 members of the Georgian Bay Coyotes.
The Coyotes have been training very hard since their last meet a month ago, so they were excited to see how they would do deep in the middle of heavy training.
The day began with the Tyke Girls and Tyke Boys running together on the indoor 200m oval. Sydney Snelling grabbed a silver medal in the Tyke Girls 1200m race, as did Nathan Leary in the Tyke Boys 1200m. Keira Snelling earned a bronze medal in the Atom Girls 1500m event. The Mite Boys 400m race had Liam MacInness-Wiley lacing up in his first ever indoor meet. He knocked a whopping nine seconds off his best time to snatch third as he nosed out his rival at the line. Mason Bell dropped his 1500m time by over two seconds in the Atom Boys 1500m and Taryn Weppler took seven seconds off her Atoms Girls 1500m previous best.
The 800m races began after lunch, giving the Coyotes a chance to recharge after the morning races. There were many exciting finishes and lots of reasons for cheering.
Liam MacInnes-Wiley grabbed his second medal of the day in the Mite Boys age group knocking an impressive 18 seconds off his best time. Sydney Snelling won her second medal of the day as well, taking gold in the Tyke Girls race. Olivia Latham ran a very strong race to edge out her competitors at the line to win bronze in the Atom Girls event. Keira Snelling was in close pursuit behind Latham as she posted a personal best time of 2:43.84, taking off three seconds. Emmett Leary also posted a personal best time of 2:42.15 in his Atom Boys 800m, dropping his time by over to seconds.
"Overall it was a great day of racing. We brought home seven medals and had seven personal best performances. Many others were only a couple seconds off their best times as well. Exciting since being deep into heavy training, personal best times don't come very often," said team coach Kevin Hooper. "We have just under five weeks before provincials. So with a few more weeks of hard training and then tapering over the final two weeks, our Coyotes will be in great racing shape by then."
Photo: Liam MacInnes-Wiley competed in his first ever indoor track meet and was a double-medal winner in the Mite Boys 400m and 800m events at the Flying Angels Indoor Classic Track Meet in Toronto on Sunday, February 23.