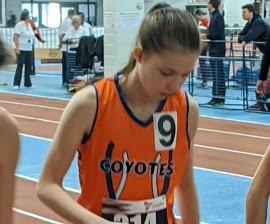 The 2020 Athletics Ontario U18 (under 18) Open Indoor Track and Field Championships were held on Saturday, February 8, and Sunday, February 9, at York University in Toronto.
Veteran Coyote member Ethan Pentland, a Grade 11 Durham student, and new member Avery O'Neil, a Grade 9 Collingwood student, represented the Georgian Bay Coyotes.
Saturday began with the 1,500m events. O'Neil, in her first ever indoor meet, was quite nervous and yet excited to lace up.
"Being in her 15th year against girls 16 and 17 years old, her primary goal was to run a solid race and enjoy the experience," said team coach Kevin Hooper. "Avery did just that. She ran faster than our guestimated run time, stopping the clock at 5:38.98, a personal best time for her. She placed 48th of 56 athletes."
Pentland was next in the U18 Boys 1,500m.
"With some solid training over the last few weeks, he was looking for a solid race and a season best time. Ethan also performed well and accomplished his goal," noted Hooper. "His season best time of 5:21.20 placed him 13th of 62 athletes."
On Sunday, O'Neil competed in the U18 Girls 3,000m race. She held consistent lap times throughout the 15-lap race and finished strong. Her new personal best time of 12:23.03 gave her a 15th placing against 16 girls.
Sunday afternoon, Pentland was optimistic of a quick U18 800m race, being in the fastest of seven heats. His optimism turned to disappointment after his time of 2:13.52 put him 7th of seven in his heat and 34st of 40 overall.
Photo: Grade 9 Collingwood student Avery O'Neil competed in her first ever indoor track meet at the U18 Athletics Ontario Track and Field Championships on February 8th and 9th