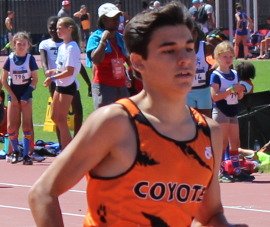 The Athletics Ontario season opener track meet was held at York University's indoor 200m track on Saturday, January 11, and Sunday, January 12.
The lone Georgian Bay Coyote competitor, Ethan Pentland, a grade 11 student from Durham, had a great start to his indoor track season.
On Saturday, he stepped up to the line for his 1500m race. Starting cautiously, he began at the back of the pack in the fastest of three heats and gradually worked his way to the front group.
"He was on a personal best pace at 1300m and then ran out of gas over the last 400m. This is nothing that a little more endurance speed work can't fix. He crossed the line in 4:29.66 taking 24th spot of 38 competitors," said team coach Kevin Hooper.
On Sunday Pentland laced up for his 800m event, his favourite distance. He was seeded third going into the race and finished third overall against 20 competitors, after a very solid performance. He stopped the clock at 2:02.77, only three seconds off his personal best time.