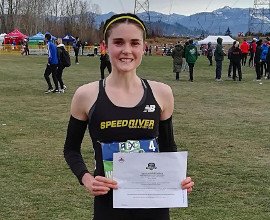 Abbottsford, BC was the site of the 2019 Canadian Cross Country Championships on Saturday, November 30. Racing conditions were pleasant with comfortable temperatures and dry green grass. Each of the two kilometre loops the athletes trekked around was relatively flat with tough short hills and uneven surfaces, combined with a few hay bails to hurdle over.
Hannah Woodhouse from Heathcote is a 4th year University of Guelph student and a Georgian Bay Coyote alumnus. Five years ago she competed in BC at the Junior National Cross Country Championships as a Coyote, where she came home as National Champion and later represented Canada at the World Junior Cross Country Championships in China.
This year Woodhouse laced up in the Senior Women's 10km race competing with Speed River Track Club in Guelph and part of Team Ontario. The race attracted many of Canada's top distance runners. A fast opening pace separated the pack, with Woodhouse in close pursuit of the leaders. Falling off the pace later on in the race, she still posted a very fast time of 35:06, crossing the line in 8th spot overall against 45 competitors. Woodhouse was only 400m behind the overall leader. Team Ontario placed second overall.
Woodhouse is now on a well deserved break as she switches gears and shoes for the indoor track season over the winter.