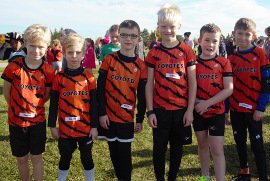 The Georgian Bay Coyotes took their largest and one of their strongest teams ever to the 2019 Ontario Minor Track Association Cross Country Championships, held at Centennial Park in Etobicoke on Saturday, October 26.
There were almost 500 athletes competing from SK-Grade 9. Thirty-six members were selected to represent the Coyotes with high hopes of many strong performances, and they did not disappoint. Of their six teams of three members or more, they won two 1st place team awards and a 2nd place team award. They also brought home one gold medal and had eight 'Top-10' performances.
Nearly one-third of the Coyotes' team had never competed at a Provincial XC Championship before, making this event a great learning experience for them.
The Coyotes' two top teams were the Mite Boys [7-8yo] and Tyke Boys [9-10yo]. Both teams were pre-race favourites and Liam Law (Meaford) grabbed the Coyotes' only gold medal in the Mite Boys 1000m race. He had a dominant 12-second lead over his nearest competitor. There were only five seconds separating the 2nd to 5th place runners.
The Tyke Boys were equally as strong over their 1500m race. Mason Bell (Georgian Bluffs) and Emmett Leary (Meaford) crossed the line 4th and 5th, with only 0.26 seconds separating them, and the 3rd counter, Brennan Law (Meaford), was only six seconds back.
"Our Mite Girls also put on quite a show. Ella Kulakowsky (Thornbury) was their team leader, taking 7th spot and only 13 seconds back of 1st. Newcomers Allie MacKay (Owen Sound) and Dehlia Reekie (Meaford) were less than 25 seconds back of Ella," said team coach Kevin Hooper.
The Coyotes' Tyke Girls team was hoping to have a strong race day over their 1500m distance. They had a very rough start as they all got swallowed up in the mass start of 55 competitors. They were all thrown to the back of the pack and gave all they had to make up ground. With a narrow course over the first half of the race, there was little room to make up ground.
"The exciting parts of their experience were that they never gave up; there was only 10 seconds separating our top six girls, and that seven of the nine girls were all the youngest in their age group. So those seven girls all get to get revenge next year in the same age group," Hooper noted.
The Atom Girls 2000m race had the most competitors of the day with 87, with Keira Snelling (South Bruce Penninsula) leading the way. She had a very solid race, crossing the line in 20th spot. The Atom Boys 2000m race was headed by Ethan Mei (Meaford). He has made huge improvements this year and now is able to compete with the 'big boys'. He was with the front pack over the first 1km and crossed the line in 6th spot, only one second back of the leader.
The other solid race for the Coyotes came in the Senior Girls 3000m race. Chantel Abbott (Collingwood) competed in her Simcoe Area XC Meet only three days earlier where she took 2nd spot. On race day in Etobicoke she had her usual slow start in the middle of the pack of 63 runners. Her relentless solid pace moved her up to 9th overall and only 18 seconds behind 1st place.
"Overall it was an amazing experience for our Coyotes and also a very successful Championship meet. The team will train for a few more weeks. They will then take a well-deserved rest before entering into their winter training/racing program. All our Coyote coaches are soooo proud of all our runners who competed! Congrats to all!" offered Coach Hooper.
Photo: From left to right, Liam MacInness-Wiley, Lucas Low, Preston Hines-Stoneleigh, Liam Law, Nathan Leary, and Ben Traynor won the 1st Place Mite Boys Team Award at the MTA Provincial Cross Country Championships on Saturday, October 26. Liam Law was 1st overall