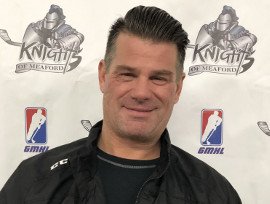 Knights of Meaford head coach Todd Elik has his work cut out for him, but sees no obstacles getting the team ready for the 2019-20 season. "Twenty-five of the 29 players are new. The average age is 17 1/2 - 18 years, when Tier II players are typically 19-21 years old," he said.
Elik is a former NHLer (1989-97) who played for the Los Angeles Kings, Minnesota North Stars, Edmonton Oilers, San Jose Sharks, St. Louis Blues, and Boston Bruins. He was born in Brampton and grew up in Bolton. He spent the past year in China developing a minor hockey program for players 6-11 years old on behalf of the LA Kings. "I love developing a team. I love the challenge," he said. "The game gets faster and faster every year. The focus here in Meaford with this young team is to bring the level of physical conditioning up."
Players are balancing daily practices on the ice with gym time, academic studies, and, for some, part-time jobs, according to Nathan Parrish, the Knights' general manager and assistant coach. "Three of players are attending high school, some are working on their schooling online, and some have part-time jobs," he said. "Most players work out in the gym with Todd for an hour in the morning. The team practises on ice five days a week for an hour and a half."
Coach Elik does not see schooling as an obstacle. "I tell the guys that schooling is the most important thing of all," he said. "If they want to play hockey, they have to first make sure they take care of themselves and their future."
The Meaford Independent met up with Coach Elik on October 15 during the team's first home ice practice, two days before its first home game on October 17. "So far, we've won against Bancroft 5-2 and Ottawa 8-0, and lost to New Tecumseh 8-3 and to Bradford Bulls 5-2. We're a young team, but we're in the game. We just need to bring our physical level and tempo up."
For more information, visit meafordknights.ca.