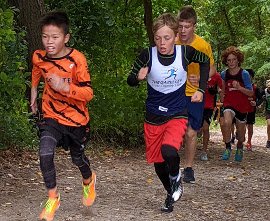 The Georgian Bay Coyotes took 22 of their younger members to Burlington on Saturday, October 12. Typical fall weather welcomed the athletes, with the rain stopping early and the sun shining by the end of the morning. Several teams were in attendance as everyone gears up, and coaches make final adjustments for the MTA Provincials in two weeks' time.
"Our Coyotes have been training very hard and came ready to race," said team coach Kevin Hooper. "We had members competing in seven of the ten races and had a team of at least three in four of those ten events. We brought home four individual medals, posting three first place team awards, a third place team award and had eight 'top-5' performances. Everyone gave 100% over the tough, twisty, and hilly course and stamped their mark against several tough teams."
Some exciting sprint finishes delighted the crowds throughout the day. Ella Kulakowsky took second spot in the Mite Girls 1km race and was only 3 seconds back of first. Lucas Low's bronze medal in the Mite Boys 1km race was just 6 seconds back of second spot. Sydney Snelling was just shy of the podium by two seconds in the Tyke Girls 1.5km trek, while Emmett Leary's bronze medal in the Tyke Boys 1.5km event was only 3 seconds behind the silver medallist. Ethan Mei won his sprint for his silver medal performance in the Atom Boys 2km race, edging out third place by 0.8 seconds.
The team is in great shape heading into the Provincial Championships in Etobicoke on October 26, where all their top runners will be in attendance.
Results:
Mite Girls 1000m [2011-2012]
Ella Kulakowsky [11] - 2nd/9 @ 4:49.41
Mite Boys 1000m [2011-2012] - 1st place team
Lucas Low [12] - 3rd/11 @ 4:53.66
Ben Traynor [11] - 4th/11 @ 4:58.72
Nathan Leary [11] - 5th/11 @ 5:06.81
Liam MacInnes-Wiley [12] - 8th/11 @ 5:23.09
Tyke Girls 1500m [2009-2010] - 1st place team
Sydney Snelling [10] - 4th/18 @ 6:20.66
Rimyelle Grady [09] - 6th/18 @ @ 6:29.79
Estelle MacInnes-Wiley [10] - 8th/18 @ 6:40.28
Kate Earle [10] - 11th/18 @ 6:57.81
Noelle House [10] - 17th/18 @ 7:29.21
Tyke Boys 1500m [2009-2010] - 1st place team
Emmett Leary [09] - 3rd/30 @ 5:46.88
Ethan Milne-Pearson [09] - 5th/30 @ 5:54.75
Mason Bell [09] - 9th/30 @ 6:03.00
Hayden Pifer-Alexander [10] - 16th/30 @ 6:22.18
Sebastien Mei [10] - 21st/39 @ 6:50.55
Atom Girls 2000m [2007-2008]
Keira Snelling [08] - 6th/21 @ 9:39.66
Olivia Latham [08] - 9th/21 @ 9:52.62
Atom Boys 2000m [2007-2008] - 3rd place team
Ethan Mei [07] - 2nd/26 @ 8:47.53
Luke House [07] - 11th26 @ 9:30.78
Graeme Manwell [08] - 17th/26 @ 10:13.50
Senior Boys 3000m [2005-2006]
Kyle Manwell [05] - 10th/19 @ 14:23.34
Dominic Manwell [06] - 13th/19 @ 14:29.59
Photo: Ethan Mei, in orange on left, took the lead half-way through the Atom Boys 2km race and crossed the line in 2nd at the Ken Lake Classic Memorial Cross Country Meet in Burlington