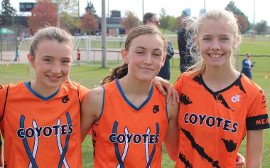 Five members of the Georgian Bay Coyotes competed at the Pre-OFSAA Cross Country Meet in Sudbury on Thursday, October 3rd under cool and drizzly conditions.
The Pre-OFSAA meet is held on the same course as the Provincial High School "OFSAA" Cross Country Championships will be held in early November and a chance for some of the schools to get an early 1st look at the course.
In the Grade 9 Midget Girls 4km race, Avery O'Neil crossed the line in 12th spot against 62 competitors with a solid time of 18:42.12, out-sprinting her closing rival by two seconds. Devlin Gillis, coming off his summer injuries, is running himself back into shape. He took 27th spot in the Grade 9 Midget Boys 4km race against 99 others. His time was 16:18.39.
The Grade 10 Junior Girls team of Hailey Abbott, Leah Ray and Madi Calder took first place team honors. Hailey also won the 5km race by a comfortable 14 seconds, crossing the line in 22:02.65. Team mate Leah was 7th with a time of 23:18.78 and Madi finished 12th of 61 girls with a time of 24:20.06.
All five members are students of C.C.I. in Collingwood. Their training and racing will continue for a few more weeks as they prep for OFSAA on Saturday, November 2nd.
Photo: From left to right, Hailey Abbott, Madi Calder and Leah Ray took 1st place team in the Junior Girls 5km race at Pre-OFSAA in Sudbury on Thursday, October 3rd.