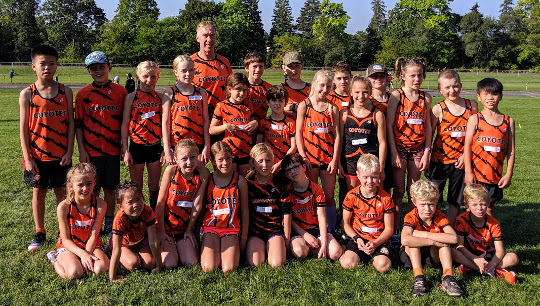 On Saturday, September 28, the Georgian Bay Coyotes sent a group of 23 members to the annual Brantford Cross Country Meet.
Sunny warm weather welcomed the athletes for a great day of racing. The Team has been training extremely hard over the last seven weeks and were ready to put that training to the test.
The Grade 2-3 Mite Girls started things off on a positive note for our team. Ella Kulakowsky grabbed 2nd place in an exciting sprint to the finish over the 1km loop, missing first by only three seconds. The Coyotes' Grade 2-3 Mite Boys dominated the field taking six of the top eight positions. Liam Law had a sizable lead to earn gold. New comers Preston Hines-Stoneleigh and Lucas Low took 3rd and 4th spots respectively. They were the 1st place team as well.
The Grade 4 -5 Tyke Girls 1.5km race had some more exciting sprint finishes. Sydney Snelling was in close pursuit to the top pack, finishing 5th overall. Team mate Freja Kulakowsky was back in action after missing the summer track season. She was a few spots back and team mates Taryn Weppler and Rimyelle Grady all within 10 seconds of each other. They also won 1st place team.
"The Grade 4-5 Tyke Boys 1.5km race had our team take 1st place overall," said team coach Kevin Hooper. "Mason Bell took 3rd spot, just 1 second back of 2nd. Team mate Brennan Law was close behind in 4th as he out-sprinted his rival to the finish line. The also took 1st place team."
The duo of Grade 6-7 Girls 2000m race also had strong performances in a loaded field. Keira Snelling took 7th spot with only seven seconds separating 4th and 8th finishes. Olivia Latham was in close pursuit, taking 12th and only 16 seconds behind her teammate. Ethan Mei had a very solid race as well. His 2nd place finish was only five seconds back of first and his closest rival was over 20 seconds back.

Overall it was a great day of competition. It was a great first look at our runners competing both individually and also as a team," Hooper noted. "Our Coyotes are back in action on Saturday morning, September 28th as we host our 9th annual Coyote Cross Country Meet at the GBCS athletic field with more than 400 athletes expected."
Results:
Mite Girls 1000m [2011-2012]
Ella Kulakowsky - 1st/13
Estella Mei - 8th/13
Mite Boys 1000m [2011-2012] - 1st place team
Liam Law - 1st/10
Preston Hines-Stoneleigh - 3rd/10
Lucas Low - 4th/10
Liam MacInnes-Wiley - 5th/10
Avery Brown - 7th/10
Marshall Grady - 9th/10
Tyke Girls 1500m [2009-2010] - 1st place team
Sydney Snelling - 5th/25
Freja Kulakowsky - 9th/25
Taryn Weppler - 12th/13
Rimyelle Grady - 13th/25
Estelle MacInnes-Wiley - 14th/25
Kate Earle - 16th/25
Noelle House - 20th/25
Tyke Boys 1500m [2009-2010] - 1st place team
Mason Bell - 3rd/25
Brennan Law - 4th/25
Sebastien Mei - 19th/25
Atom Girls 2000m [2007-2008]
Keira Snelling - 7th/27
Olivia Latham - 12th/27
Atom Boys 2000m [2007-2008]
Ethan Mei - 2nd/30
Luke House - 16th/30
Wes Brown - 29th/30