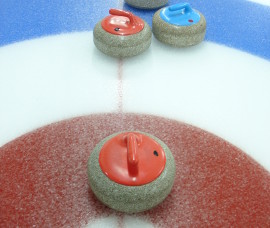 The Meaford Curling Club is warming up for another winter season and looking forward to reconnecting with old friends and hopefully some new members too.
The Club will be accepting registrations on Oct 8 and Oct 10 from 7-9pm each evening. As well, registrations will be available online beginning Sept 17.
"We are looking forward to another successful season of friendly and competitive curling," said Board Chair Ken Bullock. "There really are leagues for every curler- from beginners to those with more experience."
As well, the Meaford Curling Club offers two Introductory Curling Clinics each year. This year's sessions are set for Oct 27 and Nov 3 from 1-3pm. Both beginning and returning curlers are invited to attend and refresh their skills. Club members will be on hand to assist and refresh your curling techniques.
For the younger set, there is a junior After School Program on Monday afternoons for a nominal fee of $50 for six weeks. For more information on the youth curling program please email meafordcurling101@gmail.com.
For further information please contact the Curling Club at 519-538-2002. The Meaford Curling Club is located at 130 Collingwood St W.