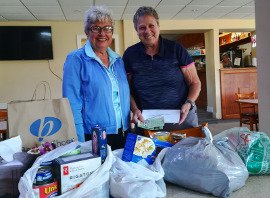 On September 5, nine golfers from the Meaford Ladies 18 Hole Club participated in their 'Field Day' game, and as is their custom brought a donation for the Golden Town Outreach Foodbank.
Sue MacDougald had the longest drive on Randle 4 and was nearest the pin from her drive on Randle 6. Candy Yeandle's drive on Randle 2 was closest to the rope. Eva Alcorn was closest to the pin on Millennium 3 and had the longest putt on Millennium 7. That putt was from off the green, impressing her companions. A nice amount of non-perishable food and over $100 will be delivered to the Food Bank.
The final 'Chix with Stix' game will be held September 19, at Cranberry Golf Club in
Collingwood, and their final game, awards, and dinner will be held September 26, with a group photo at 12:40 p.m., 9 hole Scramble at 1 p.m., general meeting and awards at 3:30, dinner at 5 p.m.
Photo: Cathy Seidle on left, Sue MacDougald, right.