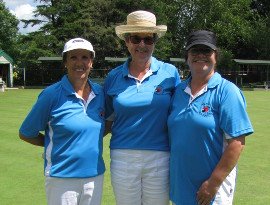 Local Meaford lawn bowlers Jill Calvert-Goetz skip, Brenda Madill vice, and Wendy Calvert-Morris lead, achieved 4th place in the Novice Provincial Championships.
The Ontario Lawn Bowl Association Novice Championships were held August 24 and 25 in Kingston, with four pools of four teams. The Meaford women representing District 8 tied for first in their pool and moved on to the semi-finals where they were defeated by Oakville. District 8B team from Hanover also qualified for the semi-finals but lost to Windsor. The two teams from District 8 met in the bronze medal game in which Hanover was victorious.
Jill, Brenda, and Wendy said that they are very happy to be fourth in the province. Watch for them next year as they will still be eligible to compete as novices.
Final Standings OLBA Novice Triples Championships 2019:
Gold: Windsor - Mary Lou Demers, Jeannette Quenneville, Susan Newsham
Silver: Oakville - Jennifer Aziz, Anne Wilkinson, Cathy Kuhrt
Bronze: Hanover - Robin O'Toole, Julie Poluck, Linda Allen
Fourth: Meaford - Jill Calvert-Goetz, Brenda Madill, Wendy Calvert-Morris