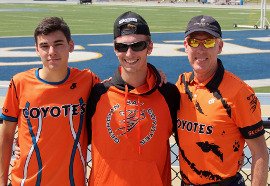 The University of Windsor was host to the 2019 Athletics Ontario U14, U16, and U18 Provincial Track and Field Championships on Saturday, August 3 and Sunday, August 4. The sun was shining, the wind was calm, and temperatures were high making great conditions for fast times.
Seventeen-year-old Meaford student Spencer Book and and 16-year-old Durham student Ethan Pentland both competed in the U18 1500m on Saturday morning and the 800m on Sunday morning. Both had improved their times over the last couple of weeks at evening Twilight Meets and were optimistic for even faster times, and they did not disappoint.
The U18 1500m had 59 competitors divided up into 15 runners in each of the four heats, with Book in the third fastest heat and Pentland in the second fastest heat. Book fell off his pace over the first three laps, but closed in a blistering fast last 300m to cross the line in a season's best time of 4:18.68, placing 29th overall, just three seconds off his personal best. Pentland held a consistently fast pace the entire race and kicked into overdrive for his final 200m. He dropped six seconds for a new personal best time of 4:09.08 to take 9th place.
Both runners broke the 2:00 barrier for the 800m one week before the Provincials and were looking to do it again Sunday morning. There were 40 runners registered for the U18 800m race with eight runners in each of the five heats. Both Coyotes were in the same heat, and they executed their game plan perfectly.
They came through the first 400m in 58 seconds and through 600m in 1:27, leading their heat. They both ran out of gas over the last 150m and came up just shy of their personal best. Pentland placed 9th overall with a time of 1:59.78 and Book claimed 13th spot in 2:00.05, with a pack of guys surrounding them.
Photo: From left to right, Ethan Pentland and Spencer Book competed at the Athletics Ontario Track and Field Championships in Windsor on August 2-4, supported by Coyote head coach Kevin Hooper