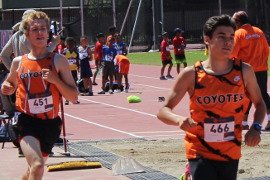 Two senior members of the Georgian Bay Coyotes will be competing at the Athletics Ontario Provincial Track and Field Championships in Windsor on August 2-4.
Ethan Pentland (#466), entering into grade 11 and Spencer Book (#451), entering into grade 12, have had very solid training sessions all season long and are gearing up for the extremely tough Ontario competition in the U18 age group.
Recently both competed in evening Twilight Meets in both Guelph and Hamilton to hone their racing skills. On Wednesday, July 17th in Guelph, they laced up for the 1500m event under very humid and hot conditions. Ethan's time of 4:16.24 just missed his personal best by 0.08 seconds. Spencer ran a season best time of 4:24.24.
On Sunday, July 21st, they both travelled to Hamilton for another Twilight Meet for the 800m with much more comfortable temperatures. Both had a goal of running under the 2:00 barrier and they succeeded. Pentland crossed the line in 1:59.13 and Book stopped the clock at 1:59.26. Personal best times for both. This was Ethan's first time under 2:00, while Book has only done this once before last year.
"Both boys have incredible top sprint speed and will be looking for personal best times again as they peak for Provincials. All the best guys! Know you both will do us proud," offered team coach Kevin Hooper.