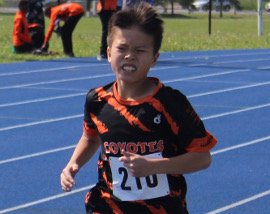 Saturday, June 22 was the annual Brampton Racers MTA Meet at the Terry Fox Stadium. A 16 member group of the Georgian Bay Coyotes were in attendance to test their training over the last month as they begin prepping for Provincials held the end of July on the same blue track.
"Several of our Coyotes were unable to make the trek, but our full squad will be more than ready come Provincials on July 27th and 28th," said team coach Kevin Hooper.
Over 400 grade-8-and-under athletes were in attendance, with some very strong distance runners coming up from Ohio. The Coyotes were ready for the challenge and performed well, with nine personal best times, numerous performances just missing personal bests, five medals and 10 "top-5" placings.
Medal performances came from three of the Coyotes younger athletes. Ben Traynor [Meaford] captured second in the Mite Boys 400m, improving his best time by four seconds. Emmett Leary [Meaford] snagged two silver medals in the Tyke Boys 800m and 1200m as he dropped his time by eight seconds. Teammate Mason Bell [Georgian Bluffs] earned two bronze medals in the Tyke Boys 800m, dropping his best time by eight seconds and also in the 1200m.
Olivia Latham [Owen Sound] had two great races. She dropped her Atom Girls 800m time by five seconds and improved her 1500m time by four seconds. New-comer Kate Earle of Meaford made her Coyote racing debut with two solid races and didn't shy away from the strong competition. In the Atom Boys 800m and 1500m, Meaford's Ethan Mei ran two very aggressive racing and gaining confidence with each race. He improved his 1500m time by one second.
"On such a windy day, running personal best times was a challenge. Having so many PB's and so many others just missing is exciting as we head into the provincials in just over a month away," said Hooper.
For more information on the Team, check out their website at www.georgianbaycoyotes.com.
Photo: Grade 6 Meaford student, Ethan Mei, has made tremendous improvements over the last several months and his confidence continues to build with each meet he compete in. Ethan competed in the Atom Boys 800m and 1500m on Saturday, June 22nd in Brampton.