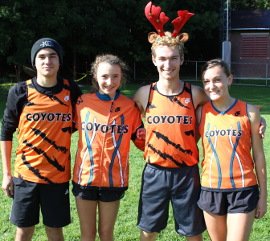 Several high school aged members of the Georgian Bay Coyotes competed last week in their quest to qualify for OFSAA in June.
On Monday, the Coyotes' three Collingwood girls raced under horrible weather conditions - rain, wind, 4-5C.
Those competing in Kincardine at the BAA meet on Wednesday had much more pleasant conditions and again, all of the Coyotes advanced.
The top four in each event advanced to their respective district meet on Wednesday, May 22, with those Coyotes who qualified placed no lower than third spot.
Photo: From left to right, Ethan Pentland, Hailey Abbott, Spencer Book, and Madison Calder were four of the seven Coyotes to advance to the second of four rounds of competition en-route to OFSAA.