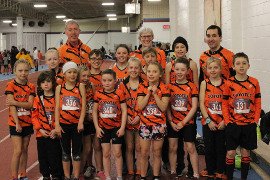 The annual Flying Angels Indoor Track and Field Classic was held at York University on Saturday, February 16, with a large contingent of athletes in attendance.
After training through frigid temperatures, lots of snow, and freezing rain the last several weeks, the Georgian Bay Coyotes Track Club sent a strong group of 15 Grade-8-and-under members who were eager to see how fast they could run - and they did not disappoint.
Impressive performances came from all of the Coyote runners on the day.
"They ran their little hearts out and did our team proud!" said team coach Kevin Hooper.
One of the most exciting races for the Coyotes team was Kaj Kulakowsky, a Grade five student from the Town of Blue Mountains. He dropped his Atom Boys 1500m time by a whopping 28 seconds. He had the lead with 100m left and just ran out of gas at the final straight away to take 4th spot.
Sister Freja Kulakowsky impressed in her Tyke Girls 1200m race, taking home gold, dropping her time by over 12 seconds. Meaford's Emmett Leary, a Grade four student, ran a very impressive race to grab silver in the Tyke Boys 800m, setting a new best time in the process.
Overall, the Coyotes brought home ten medals (four gold, three silver, and three bronze) and had 18 personal best performances. Several others just missed personal best times by less than a second.
"It was a very exciting and positive day of competition for our young runners. They now spend the next four weeks peaking for their Minor Track Indoor Provincial Championships on March 23 and 24, again at York University," said coach Hooper.
Photo: The Georgian Bay Coyotes sent 15 athletes to York University for the Flying Angels Indoor Classic on Saturday, February 16 and had several impressive performances.