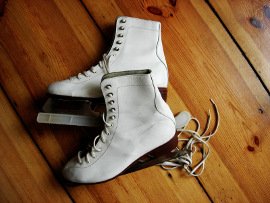 The Meaford and Beaver Valley Skating clubs have announced another joint Ice Show happening on Sunday, February 24 at the Meaford Arena.
The shows have always been a huge hit, as skating is a well-attended winter sport in our area. It is a great event to attend because it not only supports the local clubs but it is a lot of fun to watch.
The show, held annually, always draws a huge crowd, as the showcase features skaters from both clubs, from the wee Canskaters to Shooting Stars, Juniors, Intermediates, and Seniors.
This year's show, 'Amongst the Stars', features genres of music that you will recognize and be singing along to in no time.
"We are thrilled to have Sarah Raynsford joining us as our Guest Skater this year. Sarah is a provincial Skate Ontario Champion and is a four-time gold test skater. Sarah is also on the McMaster skating team while attending university," said organizers.
Intermission will feature drinks and treats, a silent auction, and draws.
The show starts at 2 p.m., with doors open at 1:30 p.m. Tickets are $12 per person, children 5-12 $5, and under 5 are free. All prices include a souvenir program. All tickets are available at the door.