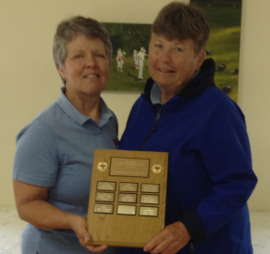 Meaford Lawn Bowling Club held the Rotary Tournament on June 4, 2018. Participating teams were from Collingwood, Chesley, Hanover, Mount Forest and Meaford.
Despite the cold rainy weather, everyone had a good time.
Winners were:
1st Place;
Gladys Williams & Donna Eagles, from Meaford (photo)
2nd Place
Wayne Holly & Gord Smith, from Collingwood.
3rd Place
Dan Dekking & Paul Warrick, from Meaford.
4th Place
Pat Kaufman & Jim Spence, from Hanover
Consolation Prize
Rea Best & Jim Davis