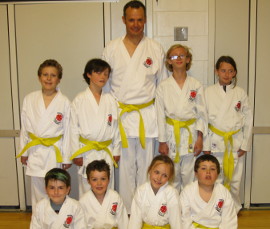 On Saturday, May 12, the Meaford Karate club hosted the regional ranking, with four clubs attending from Owen Sound, Port Elgin, Wasaga Beach and Meaford.
The 28-student ranking was conducted by Kei Tsumura 8th Dan, with over 55 years leading Itosu Kai Karate in Canada. The ranking was a four-hour test that pushed the students' limits; the students knew they earned their belts by the end of the ranking.
Pictured with their new belts are: front row- Sawyer Hanson, Joseph Spence, Cohen Knight, Liam Morrison; back row - James Morrison, Isabel Spence, Dave Spence, Tyler White, Chantel White. Missing - Vanessa Fraser, Noah Ruffet, Benjamin Ruffet.