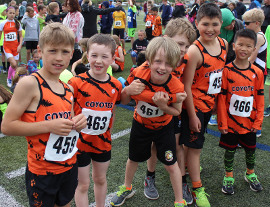 The Coyotes - the Georgian Bay Coyotes Track Club that is, under their new name - began their season opener with 21 Grade 8 and under members in Burlington at the 28th Annual Gord Rusby Memorial Track and Field Meet.
After making the transition from indoor racing to outdoor, the young Coyotes were ready to put their Spring training to the test. They battled cool temperatures and rain in the morning, but were fortunate to finish the day with cool sunshine in the afternoon.
Several very strong performances were posted on the day, with seven medals, 13 'Top 5' placings, and 23 personal best times, with many others just missing their personal best time.
"It is a great beginning to the season, with what looks like will be another outstanding summer of racing," said team coach Kevin Hooper.
Freja Kulakowsky, an 8 year-old from Blue Mountains, took gold in the Mite Girls 400m event and second in the Tyke Girls 1200m as she moved up an age group.
Hailey Abbott, a 14 year-old Grade 8 student from Collingwood, knocked 6 seconds off her Senior Girls 1500m time to grab a silver medal.
Wes Brown, a Grade 5 student from Meaford, carved 26 seconds off his Atom Boys 1500m time.
Ava Olivier, a Grade 5 Meaford student, improved both her 800m and 1500m, taking 15 seconds off her 800 and 10 seconds off her 1500m.
Teammate Skyler Carefoot of Owen Sound dropped her 1500m time by 16 seconds.
Meaford's Nathan Leary, a Grade 1 student, took a whopping 44 seconds off his 1200m best, while his Grade 3 brother, Emmett Leary, improved his best 1200m time by 6 seconds.
Newcomer Chantel Abbott, a 12 year-old from Collingwood, had two very strong performances in her Atom Girls 800m and 1500m.
The new Coyote website is still under construction, but you will soon be able to keep up with details at www.georgianbaycoyotes.com. The team will return to action in late June, while they spend most of early June competing in their respective school competitions.
Photo: Kaj Kulakowsky [#459], Emmett Leary [#463], Brennan Law [#461], William Olivier [behind], Jack Farmus [#455], and Sebastien Mei [#466] were some of the 23 members of the Georgian Bay Coyotes that competed in Burlington on May 19. The boys are getting ready for their 1200m track event.