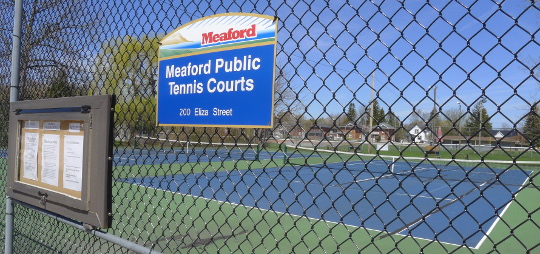 Tennis lovers will be happy to know that a new organization has been launched that will hold regularly scheduled matches, and they hope to grow the tennis community in Meaford.
TOES (Tennis on Eliza Street) held an early registration event earlier this month attracting 13 new players bringing the total thus far to 22.
"Anyone can apply during the summer at the regularly scheduled tennis gatherings starting May 14 at 6:30 p.m.," said organizers.
Mayor Barb Clumpus attended the registration meeting, and she unveiled a new notice board at the public courts on Eliza Street. The notice board will include postings for lessons and training times as well as TOES events.
The TOES registration form includes information on the player's ability so organizers can match players of similar ability. As the player improves with practise and advice from better players, they will be mixed with different players. They will mainly play doubles tennis.
TOES is looking forward to increased participation during the summer months. It is held Monday and Wednesday evenings at 6:30 p.m., and Tuesday and Friday mornings at 10 a.m.. There is no fee, to join just show up at the courts.