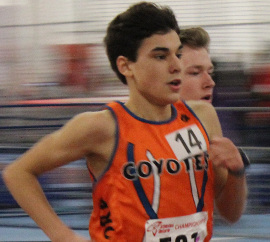 On Saturday March 3 and Sunday March 4, the Athletics Ontario U14, U16 and U20 Provincial Indoor Track and Field Championships were held at York University in Toronto. The Meaford Coyotes Track Club sent down a small but mighty team to lace up against Ontario's best and they didn't disappoint.
"In the two days of competition, our seven runners competed in ten different events," said team coach Kevin Hooper. "On Day One, five of our runners ran in four different races where they posted five huge personal best times, won one gold medal and two silver medals. Day Two was equally as impressive. Our seven runners ran in six different races and posted five more personal best times, as well as earning two silver medals and just missing a bronze by 4/100th of a second. So when it comes to distance races, nobody messes with a Coyote!"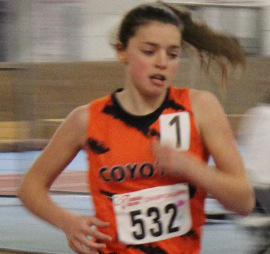 In the U16 Boys events, Ethan Pentland of Durham won gold in the 1200m and silver in the 800m races. Meaford's Kara Tichbourne won double silver in the U14 800m and 1200m races. Thornbury's Devlin Gillis won silver in his u14 1200m event. He knocked 29 seconds off his best 1200m time and five seconds off his 800m previous best. Teammate Rohan Egan dropped his 1200m best time by a whopping 32 seconds while Tichbourne dropped her 1200m best by five seconds. Meaford's Spencer Book moved up an age group to compete in the U20 and shaved another seven seconds off his 1500m time. Collingwood's Hailey Abbott finally broke the 2:30 barrier with her two second personal best time in her 800m, while Book and Pentland drew closer to that 2:00 elusive barrier, each running personal best time of 2:01 in their respective 800m races.
"Overall it was an outstanding weekend of racing, with everyone gaining valuable racing experience and learning more about what they need to work on in their training to get even faster. Our 'Grade 8 and Under' Coyotes return to action March 24-25 for the Minor Track Association Provincial Championships in Toronto," said Hooper.
Photos: Ethan Pentland won gold and silver, while Kara Tichbourne [#532] took double silver at the Athletics Ontario Provincial Indoor Track and Field Championhsips in Toronto on March 3-4.