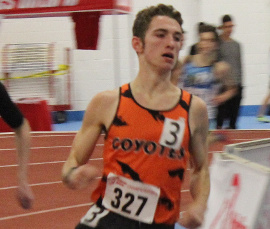 The Athletics Ontario U18 (Grade 11 and under) Provincial Indoor Track and Field Championships and the Team Ontario/Quebec Dual Meet were both held at York University's indoor 200m banked track on Saturday, February 17, and Sunday, February 18.
The Meaford Coyotes Track Club sent five of their high school members to the AO U18 Champs, and Ethan Pentland also competed for Team Ontario at the Ontario/Quebec Midget Dual Meet, with hopes of strong performances and many personal best times.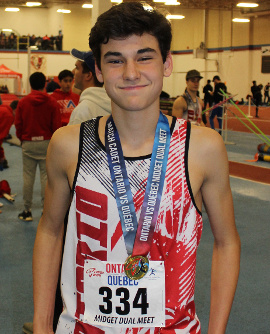 Grade 9 Durham student, Ethan Pentland started the weekend off in his U-16 Midget Boys 800m race with Team Ontario. He took off from the gun, clocking a 59 second 400m, stretching out the field. He faded a bit in the back half, still running a personal best time of 2:06.45 and capturing 4th place of the seven runners.
At the AO U18 Champs, Grade 10 students Hannah Knight from Meaford, Matalyn Lee from Owen Sound, and newcomer Hannah Hall from Orillia lined up for the Women's 1500m. With all three girls coming off the injury list, their goal was to run strong races and see where they were at. Each of them ran strong and consistent races and each ran faster than what was expected. Hannah Knight stopped the clock at 5:36.43, placing 43rd overall. Matalyn Lee placed close behind in 46th spot at 5:37.59. Hannah Hall crossed the line in 48th position with a time of 5:43.33.
In the AO U18 Men's 1500m race, Meaford's Spencer Book, Grade 10, led the Coyotes with his personal best time of 4:22.22. He set out in a blistering first 400m of 62 seconds. Tightening up a bit in the middle 700m, he recovered with a wicked finishing sprint to take 6th of 45 runners. Ethan Pentland also had a strong performance with his second race of the day. He was on pace for most of the race, but struggled in the back third of his 1500m. He finished with a great 200m sprint and crossed the line in 17th spot with a time of 4:31.35.
Matalyn Lee and Hannah Knight laced up again in the U18 Womens 800m race. Both girls ran very consistent lap times, with Matti placing 52nd overall in 2:43.48. Hannah was close behind, running a personal best time of 2:44.68, taking 54th spot.
Spencer Book had another outstanding performance in the U18 Mens 800m. In a very fast heat, he started out at the back of the pack, got tripped up a couple times, got boxed in, and still worked his way through the field to take second in his heat and 8th overall against 46 runners. He posted another personal best time of 2:02.91.
The Coyotes return to action in two weeks for the Athletics Ontario U14, U16, U20 Indoor Championships at York University. For more information about the team, visit their website at www.meafordcoyotes.com
Photos: Spencer Book #327 ran two personal best times in the 800m and 1500m at the AO U18 Provincial Championships, placing 8th and 6th respectively. Ethan Pentland #334 also ran a personal best time for Team Ontario in his 800m race against Team Quebec, placing 4th