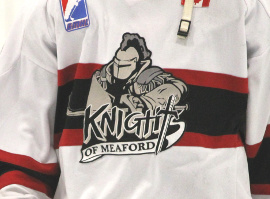 The Knights of Meaford are well-positioned to make a second-half run in the Greater Metro Hockey League.
The Knights closed out the first half of their schedule picking up three out of four points in a home-and-home series with the South Muskoka Shield. The GMHL's Christmas break is now underway and the Knights don't return to action until January 4.
On December 14, the Knights played their final home game of the first half and dominated the Shield in a 3-0 victory. Goaltender Tyler Sayger made 35 saves for a rare shutout and Chase Lewis was the offensive star with a goal and an assist.
The big win over the Shield came just two days after the team played two games in one day at the GMHL's annual Showcase Event held in Port Colbourne. The team played well in the event set up to display the league's talent to hockey scouts from all over North America. Meaford played two close games losing both - 4-2 to the Bradford Bulls in the first and 3-1 to the powerful St. George Ravens.
A day after the big win over the Shield, the teams were back in action in Gravenhurst. The Knights played another a strong game, which was decided on a Shield goal in overtime. Sayger was outstanding in net for the second straight day, stopping 41 of 44 shots directed his way. Lewis had another goal in the contest, while Daniels Leja picked up the other tally for the Knights.
"We're happy with our first half. Our group's goal is to be a top three team in our division and we're right there, just two points out," said Head Coach and General Manager Nathan Parrish. "Hopefully the guys come back rested and focused on the remainder of the season and the playoffs. We're going to have to play disciplined hockey in the second half of the season."
The Knights end the first half with a record of 16 wins, 9 losses and four overtime/shootout losses for a total of 36 points. They are in fifth place, just two points back of third spot in the North Division. The team starts the second half at home on January 4 with a game against the Seguin Huskies. Puck drop is 7:30 p.m.