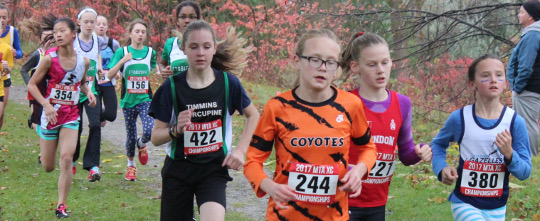 The Meaford Coyotes Track Club has come a long way since it began in August 2010.
They started with just a handful of local runners and have grown to over 70 athletes, with some travelling from over an hour away.
They have won numerous Provincial Championship medals over the years and even a few National Championship medals. They have hosted their annual Coyote Cross Country Race here in Meaford for the last seven years on 'Craft Show Saturday' with about 400 athletes competing at this year's event. The Coyotes have also become a well-respected club in Ontario.
The Coyotes sent a detailed bid to the Minor Track Association and then made a brief formal bid at the MTA annual general meeting in Burlington on Sunday, November 26. A vote was held among the more than 30 coaches and the executive to host the 2018 MTA Provincial Cross Country Championships and the Meaford Coyotes Track Club came out on top.
The MTA Provincial Championships will be held in Meaford on Saturday, October 27, 2018 at the Georgian Bay Community School Athletic Field and utilizing part of the Georgian Trail. There will be over 400 athletes arriving on race day with teams travelling from as far north as Timmins down to Windsor, several clubs from the Toronto area, as well as Port Elgin, Guelph, Barrie, London, Newmarket, Hamilton, Niagara Falls, and as far east as Kingston. The age groups will be for kids from senior kindergarten to Grade 9, with race distances ranging from 750m for the younger kids up to 3km for the Grade 8-9 kids. The races will run from 10 a.m. until about 12:30.
"This will be a great chance for Meaford area to come out and watch their Coyotes compete on the provincial stage. With home course advantage, the Coyotes will be hungry for great performances and many championship medals," said team coach Kevin Hooper.
For more information about the team, visit their website at www.meafordcoyotes.com.
Photo: Meaford Coyote Track Club member Catherine Currie #244, will be one of several Coyotes to compete in the 2018 MTA Provincial XC Championships here in Meaford on Saturday, October 28, 2018, at the GBCS Athletic Field for kids Grade 9 and under.