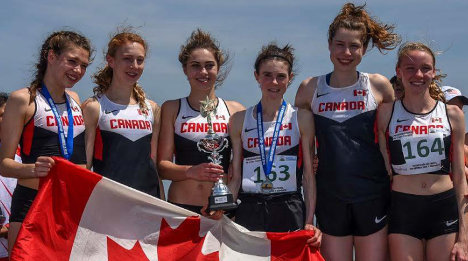 Hannah Woodhouse, a native of Heathcote and a member of the Meaford Coyotes Track Club, had her first taste of international competition on Sunday, February 22nd.
Back in November, Woodhouse earned a spot on the Junior National Cross Country Team when she won the Canadian Junior XC Championships in Vancouver. She left Toronto with Team Canada on Thursday, Feb. 18th and headed to Barranquilla, Colombia for the 2015 PanAm Cross Country Championships.
This North American, Central American and Caribbean race [NACAC] took the best runners from each of the countries. Team Canada took six members in each of the Junior Women, Junior Men, Senior Women and Senior Men, with Hannah being part of the Junior Women's team. With all the snow and freezing arctic temperatures in our area this winter, to help Hannah prepare for the heat and humidity of Colombia, she spent some time indoors on a treadmill a week before her competition wearing a long sleeve shirt, the fans turned off and a heater cranked up to 27'C.
The Junior Women raced on a relatively flat and short 5.2km course under sunny and HOT conditions, but this didn't slow down the Heathcote native. Not only did Hannah lead the Canadian Junior Women's team to a first place team victory, she also ripped through the course to grab second place overall in a field of 46 girls. Hannah cross the line in 16:35, only 6 second behind the race winner from Peru.
Woodhouse has one more indoor track meet in Toronto on March 7-8 with the Meaford Coyotes before heading to Guiyang, China to compete at the World Cross Country Championships on March 28th.