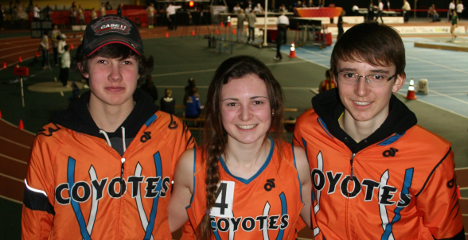 The 2015 Canadian Indoor Track and Field Championships were held in Montreal on the February 20-22 weekend, with three high school members of the Meaford Coyotes Track Club in attendance.
Coyote head coach Kevin Hooper had the honour of taking Alex Tulloch, Sam Nusselder and Jessie Nusselder by train to compete at this event.  This was the 2nd time competing in Montreal for Jessie Nusselder, a grade 12 SDSS student from Port Elgin, as she made the trip last year as well.  Grade 10 SDSS Sam Nusselder and grade 10 GBSS student Alex Tulloch of Meaford were both new to national competition.  So this was a big learning curve for both of them.
In the Youth Boys 1500m, Sam Nusselder starting things off of Friday evening.  In a strong field of 20 competitors, he executed his race plan to perfection as he bettered his personal best [PB] time by 8 seconds to take 8th spot in a time of 4:16.87.  Jessie Nusselder was up next as she competed in the Junior Women's 1500m event.  She ran her best race of the season, crossing the line in 7th spot against a smaller field, with a solid time of 4:55.74 - just missing her personal best time by about one second.
On Saturday morning, both Sam Nusselder and Alex Tulloch took to the track in the Youth Boys 3000m race.  Both boys had aggressive race plans as they hoped to run PB's.  They both went out too fast in the early stages of the race, and this took it's toll in the late stages of the race.  Sam still had a solid race, stopping the clock at 9:32.52 and just missed his PB by only 3 seconds, as he captured 7th place in a field of 10.  The early fast pace and pre-race nerves got the bet of Alex as he took 9th spot, but finished strong and gained valuable race experience as he finished in 9:57.24.
Jessie Nusselder finished the weekend on Saturday night with her 3000m Junior Women's race.  Due to a small number of entries in the Youth, Junior and Open Women's age groups, all three groups ran together.  A large group of 16 girls lined up across 4 lanes.  Jessie set out close to her rac pace for the first few laps.  She then tried to bridge a gap from a slower group to the faster group ahead of her.  Running solo for about 1km, she fell off her pace and lost valuable seconds, but finished fast, completing the 15 laps in 10:54.94, taking 7th spot of 8 Junior Girls and 11 of 15 in all age groups against a very tough field.
Overall it was a great learning experience for all three Coyotes as each of them were in the bottom of their respective age groups.  They will be joining some of their team mates in two weeks as they race again in Toronto at the highly competitive Athletic Ontario Provincial Indoor Championships on March 7-8th.