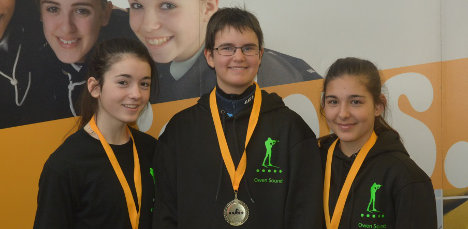 Four Meaford residents bought home seven medals from Sault Ste Marie and the site of last weekend's 2015 Cadet Provincial Biathlon Championship.
While the biathlon events at Canada's Winter Games are just getting under way out west, Braden Lohnes, Aiden Tullio, Abby Lohnes, and Alanna Majzik similarly competed in an Olympic-style Team Relay Race and Individual Mass Start events on one of Canada's most technically challenging courses.
"I love the challenge of going from intense, all-out physical exertion immediately into the calm, extreme focus required for shooting throughout a biathlon race," offered 15-year old Aiden Tullio, who has been involved with both cadet and civilian biathlon for the past three years. "This is a demanding, but incredibly fun sport."
A seemingly unlikely combination, the sport of biathlon combines the intensity of cross-country skiing with the precision of marksmanship. This third stage of the Canadian Cadet Movement Biathlon Championship Series played host to over 80 of Ontario's top athletes who had to earn their way into qualifying to compete at this level.
"The course was incredibly challenging and really cold," explained an exhausted Abby Lohnes after her repeat cross over the finish line to earn her second gold medal of this championship. "Our relay team really pushed hard yesterday and finished a full five minutes ahead of the second place team, so I am pretty happy that that I was able to improve further on my race and come across even faster during today's Sprint race."
The aim of the Cadet Biathlon Program is to promote physical fitness and to promote the safe handling of rifles. The program consists of males and females aged 12 to 18 years of age looking for challenging, community-based activities. There is no cost to join and most activities are free of charge to participate in. There are both Army and Air Cadet units in Owen Sound that meet weekly at the Tommy Holmes VC Armoury.
Be sure to pick up this week's (Feb. 20, 2015) print edition of the Meaford Independent for more photos and information about the history of the Biathlon.