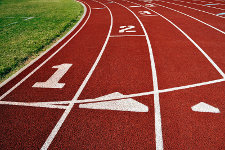 On Saturday, February 7, the Meaford Coyotes Track Club sent a small contingent of eight high school students to York University in Toronto to compete in an indoor "Prep Meet". The Coyotes have been battling frigid temperatures and snow covered, slippery roads all winter as they train outside year round, so the team enjoyed competing indoors for a change on a warm and dry indoor 200m track.
In the Midget Girl's [grade 8-9] 1200m race, both Zoe MacCulloch and Julia Latham ran personal best performances in both of their races. In a field of 9 girls, Zoe placed 6th in 4:36.44 and Julia took 7th spot in 4:37.67. In the Midget Girls 2000m, Zoe placed 5th, completing the 5 laps in 8:09.81, with team mate Julia finishing in 6th spot in 8:20.83.
In the Open Women's 1500m, grade 12 student Jessie Nusselder placed 7th of 23 girls as she cross the line in 5:01.12. Jessie and grade 12 team mate Hannah Woodhouse both competed in the Open Women's 3000m. Hannah Wood took gold in a winning time of 9:51.70, just missing her personal best time by 2 seconds. Jessie placed 4th in a solid time of 10:59.07.
The Open Men's 1500m race was a very fast race with 55 guys split up into several heats. Grade 10 student, Sam Nusselder had a very strong race as he took 22nd spot in 4:25.95, just missing his personal best time by 1.5 seconds. A new comer to the team, grade 12 student Dylan Pust arrived to our team running strong and he is already running stronger. Dylan set a new personal best time in of 4:26.54 as he placed 25th overall. Grade 10 student Alex Tulloch went out fast attempting to break the 4:30 barrier. He was on pace for most of the race and fell short in the last few laps, finishing 42nd in 4:41.80. Grade 10 student Jake Clarke has been running very strong in workouts lately. He cross the line in 4:52.15, taking 49th spot, just missing his personal best time by 0.17 seconds.
The Open Men's 3000m race was equally as exciting and fast with 20 guys on the line. Dylan Pust took 9th spot with his 2nd personal best performance of the day, finishing in 9:31.79. Sam Nusselder fell of the pace a bit, but still had a solid race, cross the line in 9:43.20 in 12th spot. Alex Tulloch was close behind, finishing 16th overall in 10:03.98. Team mate Jake Clarke knocked 19 seconds off his personal best time, placing 19th in 10:35.06.
The Coyotes return to action on a very busy Feb 20-22 weekend as several members will be competing in 3 different competitions. A large group of grade 1-8 Coyotes will be competing at York University on Saturday, Feb 21 at the Bullets Indoor Games. Head Coach Kevin Hooper will be taking Jessie Nusselder, Sam Nussleder and Alex Tulloch to Montreal for the Canadian Indoor Games on Feb 20-22. Hannah Woodhouse will be joining Team Canada as part of the Junior National Cross Country Team. Hannah will be competing in the North American / Central American / Caribbean Cross Country Championships on Sunday, Feb 22nd in Columbia. She will be racing 5.2km in the Junior race.