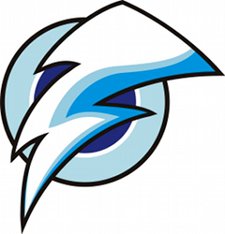 The Girl's Georgian Shores Lightning Scenic Caves bantam hockey team travelled to Ayton to take on the West Grey Warriors on Wednesday, February 4. The game was evenly matched with the Warriors having the edge in shots on goal.
Lightning goaltender, Meagan Swanson of Meaford, only allowed one goal out of 28 shots, scored by the Warriors on a breakaway with three minutes left in the second period.
Half way through the third, Joren Wilcox of Kimberley set up Payton Weir of Ravenna for a solid shot on the Warriors. Weir shot was stopped, but the rebound was put away by Wilcox to tie the game. The final score was 1-1.
Two days later on Friday, the Mount Forest Rams hosted the Lightning. In this game, Swanson turned away a barrage of shots. The game was scoreless until midway through the second when the Rams took a 1-0 lead. The Rams defense was very successful protecting their goaltender and limiting Lightning shots. Midway through the third the Rams added an insurance goal and held on to a 2-0 win.
The Mount Forest Rams followed the Lightning home for a game in Meaford on Monday, February 9. This was a very defensive game. The shots were limited by both teams. The Rams finally opened the scoring five minutes into the second period. The Lightning kept up the pressure, but could not get on the score board. The Rams added a second goal six minutes into the third period. With 11 seconds remaining, the Lightning finally broke the shut out when Weir cut the score to 2-1. The Lightning came up short with this 2-1 loss.
The Lightning start the Provincial Playdowns this Friday, February 13 when they will host the South Bruce Otters in Meaford.