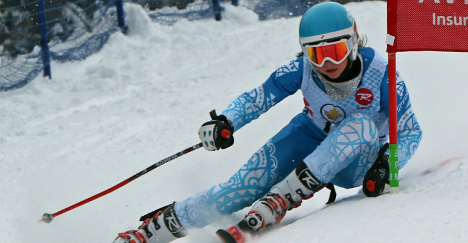 Grade 10 Georgian Bay Secondary School (GBSS) student Camryn Metzger will head to Prince George, British Columbia on February 13 to represent Ontario in the Alpine U16 competition at the Canada Winter Games.
The Canada Winter Games will bring over 2,400 athletes from across the country to Prince George and will include eight days of alpine skiing events. Ontario will send seven male and seven female able-bodied athletes and five Para athletes to compete in slalom, GS, Super-G, and Ski Cross events from February 13 - 20 at Purden and Tabor Mountains.
Metzger earned her spot on the team after attending a three-day Canada Winter Games development camp that concluded with a time trials event to select team members. For Metzger, success at that development camp, and in her skiing pursuits generally, can be chalked up to hard work and dedication.
She's been on skis since she was two and a half years old, helped along by her parents, both ski coaches, and these days she dedicates four to five days each week to training. The amount of training required to compete at a national level can have an impact on school time, says Metzger, but she adds that she works equally as hard to complete school assignments, often requesting assignments in advance.
Metzger hopes that a strong performance at the Canada Winter Games will help further her skiing career.
"I'm really excited to go. My goal is a top five in the GS, or a top three. Preferably a top three," Metzger told The Independent in an interview.
The young skier said that she loves the speeds she can reach in training and competition, though she has an appreciation for the dangers associated with racing down the slopes.
"I broke my leg last year. I was training and I lost a ski, and ended up in some netting at a bad angle," said Metzger, adding that the January injury cost her nearly all of last year's ski season.
With exams approaching at the time of her interview with The Independent, Metzger said that her loyalties are divided.
"For exams I just have to take them one day at a time, but the Canada Winter Games is probably more important to me," she says with a laugh. "But I do value school, and I try my hardest to do well in school."