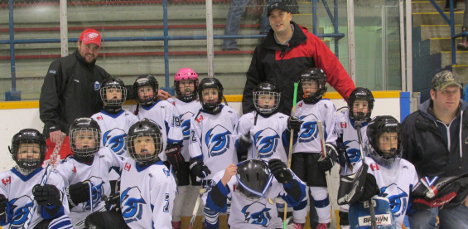 The Georgian Shores Tyke 1 Team is headed into the second half of its season on a winning streak. The team has built momentum and skill throughout December and January and has earned an impressive record of 6-1-2.
The team is made up of six and seven year old boys and girls from Meaford and Thornbury. They have travelled to some of the coldest arenas in the area playing Flesherton, Osprey, Shelburne and Dundalk and in each game the team has proven that hard work and positive team play is a recipe for success. At this level of hockey, all players get the opportunity to play in the forward, defense and goalie position. A buzzer indicates the end of each two minute shift and lines are changed with equal playing time.
The season opened with a three game win streak in which every team player earned at least a point in goals or assists. After two ties and another win, the Tyke 1 team suffered its first loss in a back and forth nail-biter against the Shelburne Wolves 2 Team that took the game right into the final seconds of play. At the final buzzer the Tyke 1 team came up short by one goal. The boys and girls bounced back to commanding wins in the two games that have followed. A number of players have earned their first hockey goals this year and four players have netted the first hat tricks of their hockey careers.
The team travelled to Stayner for a one day tournament in January and will head to Coldwater for a second tournament showing in March. The team is led by Coach Grant Murray and helped along by trainer Jeremy Acres and Manager Jason Ritchie. The final Tyke 1 Home Games of the season are on Feb 14th, 21st and 28th at the Beaver Valley Arena at 10:00 a.m.