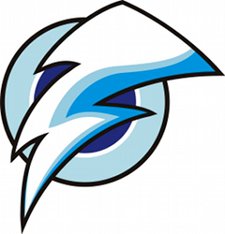 Despite road closures the Georgian Shores Lightning Atom LL team travelled to Dundalk on Saturday, January 10, 2015 to take on the Storm.
With the game underway the Lightning were playing hard and battling well, but were unable to put a puck in the net. Jerry Marshall was playing well, and held off the Storm for the first period making the game still tied at zero going into the second period.
The Dundalk Storm were the first to score in the second period making the game 1-0 going into the third period. The Lightning played well and came out strong in the third to answer back with a goal scored by Riley McFadden unassisted, just 40 seconds into the period. At 2:24 of the third Luke Morrow was able to put another one past their goalie assisted by Jordan Mead making the game 2-1. The Storm played hard and fought back, but the Lightning answered the call and held them off until there was just 3.4 seconds left when the Storm were able to put one in making the game tied at 2-2. A well played game by the Lightning resulting in a tie 2-2.
The team will travel to Woolwich this coming weekend to participate in the Woolwich Cup Tournament, but will return to regular game play Wednesday, January 21, 2015 in Meaford at 7:00 p.m, followed by a game on Saturday, January 24, 2015 in Meaford at 11:00. Come out and cheer on your local team!