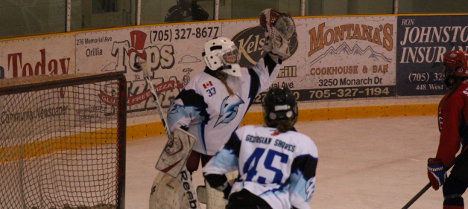 The Girl's Georgian Shores Lightning Scenic Caves bantam hockey team took on the Bancroft Jets in the Orillia tournament on Friday, January 9.
The Lightning got to work early when Kailey Gyles of Craigleith powered to the net with two defenders on her to slip the puck between the goaltender's legs to take a 1-0 lead. The defense for both teams kept the shots on net to a minimum number. With less than 90 seconds left in the first period, Joren Wilcox of Kimberley, scored between the goaltenders legs to take a 2-0 lead.
The second period continued in a similar fashion with a low number of shots by both teams, and the score remained 2-0 into the third. Both teams started taking more shots with both goalies shutting out the opposition. It looked like Lightning was going to shut out the Jet's when they scored with 48 seconds remaining in the game. The Jets then pulled their goalie adding the extra attacker putting several shots on the Lightning goaltender, Meagan Swanson of Meaford. Swanson denied the Jets and the Lightning held on for a 2-1 win.
A few hours later, the Lightning took on the Walkerton Capitals for the second game. The Lightning started out strong until a penalty two minutes into the game. Walkerton immediately when up 1-0 on the power play followed by another quick goal. The Lightning managed to contain the Capitals to a 2-0 lead into the second period. The Capitals added two more goals in the second period, and they remained in control through the remainder of the game to win 7-0.
The Lightning moved into the quarter finals against the Jets on Saturday, January 10. The Lightning came to play firing 12 shots in the first period on the Jet's goaltender, but could not find the back of the net. This domination continued into the second and third periods, with the Lightning out shooting the Jet's 30 -10, but could not score on the Jet's goaltender. Swanson for the Lightning stopped all 10 Jet's shots. After 3 periods, the game was scoreless forcing the game into a shoot out. Both teams sent 5 shooters out when the Jet's fifth shooter scored on the Lightning to win the game 1-0 sending the Lightning home.
The Lightning return to regular play Wednesday, January 14 when they host the Walkerton Capitals at the Thornbury Arena and are looking for revenge from the tournament.