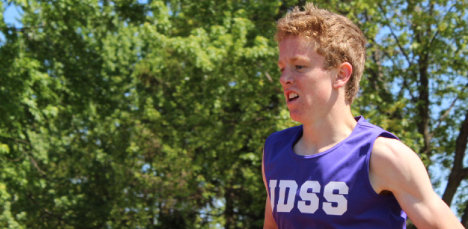 Six members of the Meaford Coyotes Track Club, representing five different high schools in Grey Bruce competed at the High School CWOSSA Track and Field Championships in Cambridge on Wednesday, May 20, and Thursday, May 21.
All six Coyotes placed in the top four last week at the BAA District Championships in order to qualify for this week's CWOSSA Champs, which is one of the most competitive divisions in all of Ontario.
In the Grade 9 Midget Girls 400m, Julia Latham [St. Mary's] placed 15th with a personal best time of 1:10.30. The next day she stopped the clock in the Midget Girls 800m with a personal best time of 2:42.70, placing 11th overall.
On the first day of competition, there were 3 Coyotes in the Grade 10 Junior Boys 1500m. Sam Nusselder [SDSS] crossed the line in 4:20.23, taking 5th spot only a few seconds off his best time. Alex Tulloch [GBSS] ran a personal best time of 4:31.67 as he captured 7th spot. Jake Clarke [GHSS] finished in 4:50.50 for 13th spot. Earlier on Day 1, Jake also ran the Junior Boys 400m clocking a personal best time of 55.54. His 8th place position was less than a 1/2 second behind 5th spot.
Grade 12 JDSS student Dylan Pust also had two races on Day 1 of competition. He began with a personal best performance of 6:44.23 in the Open Boys 2000m Steeple Chase, placing 5th and knocking 24 second off his time from 1 year ago. Later in the day he placed 9th in the highly competitive Grade 11-12 Senior Boys 1500m event, setting another personal best time of 4:20.23 as he shaved off 6 seconds from his previous best. On Day 2, Dylan ran his 3rd personal best time in 3 races as he placed 7th in the Senior Boys 3000m with a time of 9:16.65, a 15 second improvement.
Jessie Nusselder, a grade 12 SDSS student competed in the Grade 11, 12 Senior Girls 1500m race on Day 1. She stopped the clock at 5:04.28, taking 6th spot. Jessie had a much stronger performance on Day 2 as she ran her best time this year in the Senior Girls 3000m comfortably running 10:52.38 and taking 2nd spot overall.
The Coyotes returned home with one silver medal, seven personal best performances and three members advancing to OFSSA Regionals in London on Friday, May 29th and Saturday, May 30th. Sam Nusselder qualified in two events, but will only compete in the Junior Boys 3000m. Jessie Nusselder will step up to the line in the Senior Girls 3000m and Dylan Pust will lace up his shoes for the 2000m Open Steeple Chase.