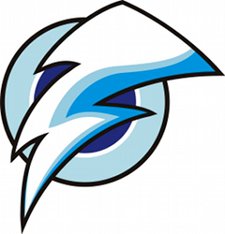 The Girl's Georgian Shores Lightning Scenic Caves bantam hockey team lost a close game to the TCDMHA Rebels from Chatsworth at the Meaford Arena on Friday, December 19.
The first period was a game played primarily between the blue lines. Both teams defense protected their respective goaltenders blocking shots and breaking up plays. The Lightning's tough defense foursome of Devyn Cochrane of Collingwood, Millie Hannan of Craigleith, Joren Wilcox of Thornbury and Jayli Brown of Meaford limited the Rebels to only three shots in the first period.
Both teams increased their shots on goal in the second with no goals until late in the second period when the Rebels had a booming shot off the crossbar to take a 1-0 lead.
The defense for both teams continued to control the game until halfway through the third period when Karissa Bowins of Meaford centered the puck to Kailey Gyles of Craigleith, Gyles' shot beat the Rebels goaltender to tie the score 1-1. The Rebels not to be outdone, scored 40 seconds later to take a 2-1 lead. The Lightning were controlling the play when they received an untimely penalty with just over two minutes remaining in the game. Shorthanded, the Lightning could not come back to tie. Final score 2-1 for the Rebels. The Lightning are now off for the Christmas break will resume their schedule on January 16, when they host the West Grey Warriors.