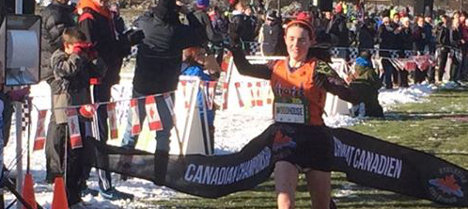 Vancouver hosted the National Cross Country Championships on Saturday, November 29th. It would be hard to find a more beautiful site for a cross country race than Jerico Beach Park in West Vancouver with the Pacific Ocean about 50m from the start/finish line and the Rocky Mountains in full view right across the harbour.
Hannah Woodhouse, a grade 12 student at GBSS and a member of the Meaford Coyotes Track Club, was the team's lone representative at the national event and did the Coyotes, GBSS, and her home town of Heathcote proud as she won her first Junior National Cross Country title. Hannah was still classified as a 'Youth' for 2014, but had to move up an age group if she wanted to represent Canada at the World Cross Country Championships in March 2015 as she would move into the 'Junior' age group in January.
The Junior Girls 6km race was stacked with the very best girls from coast to coast across Canada on the starting line, with any of the top eight having a definite chance of winning this race. Having gone over the course the day before, a race plan was developed to utilize Hannah's strengths to the fullest as the course was mostly flat with a slight two minute gradual uphill climb on each 2km loop, which the girls had to circle three times.
The race unfolded sooner than expected and Woodhouse found herself in the lead pack of seven girls after the first 2km loop. Almost 4km into the race, Hannah had split the pack wide apart and opened up a small lead over three of her competitors, with the next three close behind. Hannah's game plan to kick with about 1500m to go at the base of the small hill started about 600m earlier than anticipated since she was feeling strong and the chase pack was fading. Head Coach Kevin Hooper was thrilled with her performance as she executed her race plan to perfection.
Hannah "The Beast" Woodhouse (her new nickname) entered the final 100m straightaway all by herself and took 1st place in an impressive 22:22 on a sloppy course, with a commanding 21 second lead over the second place finisher. Placing in the top 6 guarantees her spot on the Canadian Junior National Cross Country Team. She will be leaving the continent as they head to Colombia in early March for the North American, Central American and Caribbean [NACAC] Cross Country Championships, and then onto Guiyang, China, for the World Cross Country Championships on March 28th.
Hannah is on a well-deserved one week break and will resume training with the team in early December.
For more information about the team, check their website at www.meafordcoyotes.com and check their facebook page for lots of team photos.