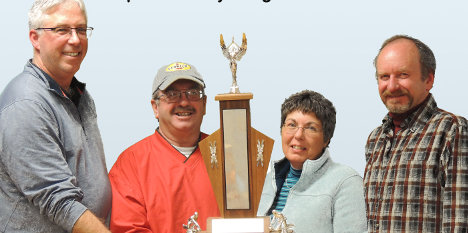 Meaford Curling Club have just opened their season in earnest with the completion of their Week-long Opening Bonspiel. As always, there were surprise upsets, surprise wins but above all great fun by all.
Sweeping the 'A' Division, Tim John's team showed who was boss. With Liz Smith at lead, Kevin Wiley at second and Denver Holden at vice, Tim led his team to an impressive victory, however, the Case team, skipped by Shirley Case, put up a healthy scrap to become leaders of the 'B' Division. Kim McDonald was vice, Fred Jamieson was second and Alysia Cutting led. 'C' Division went to David Slade's team.
For most of the week, David was skip, Thirby Lowe was vice, Bryan Collins was at second and Trina Inglis was lead, but on the final day David and Thirby couldn't make it and were replaced by Olive Richardson and Rae Best. Bill Pearson grabbed the 'D' Division with a team that consisted of Wendy Johnson at lead, Dave MacDougall at second and Janna Wipperman at vice.
"As always, we must pay tribute to our sponsors without whom we could not put on great events such as these. They are: Ferguson Funeral Home, Kopperud Hamilton, Meaford Foodland and The Wilcox Family. Thanks too, go to Pizza Delight for the refreshments which topped off the week," expressed organizers.