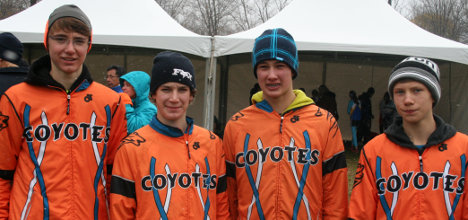 The Meaford Coyotes Track Club sent 18 members to the 2014 Athletics Ontario Cross Country Championships held in Niagara Falls on Sunday, November 16th. Cool temperatures and light snow cover welcomed many of the top distance runners in Ontario as the runners made their way around a relatively flat course at Fireman's Park.
The Coyote runners had excellent races as their hard training over the last several months has paid off. All of the Coyotes selected to compete at this race are veterans to Provincial level competitions and handled the pressure and expectations of this quality competition.
"For the first time at the provincial level, we were able to have enough strong runners to field two teams. They competed in the Bantam Boys 2km Race and the Midget Boys 4km Race where they placed 6th of 8 teams and 7th of 14 teams respectively," said Coach Kevin Hooper.
The top Coyote performance for the day came in the Youth Girls 4km Race. Grade 12 GBSS student Hannah Woodhouse ran away from her competition over the last kilometre to take a strong first place overall. Hannah will compete in Vancouver on November 29th at the Canadian Cross Country Championships as she attempts to make the Canadian Junior Cross Country Team. She has to place in the top six to automatically qualify for the team.
Bantam Girls 2km Race (2001-2002) - 2km, 88 runners
Matalyn Lee (2003) - 22nd @ 7:22
Kara Tichbourne (2005) - 41st @ 7:41
Bethany Woodhouse (2004) - 70th @ 8:16
Bantam Boys 2km Race (2001-2002) - 2km, 68 runners
Michael Ruest (2001) - 28th @ 6:52
Luc Nusselder (2001) - 35th @ 7:01
Jacob French (2002) - 41st @ 7:10
Peter Ruest (2002) - 42nd @ 7:10
Matthew Nickles (2002) - 57th @ 7:29
Midget Girls 3km Race (1999-2000) - 3km, 120 runners
Jessica Ruest (2000) - 94th @ 13:12
Zoe MacCulloch (2001) - 97th @ 13:14
Midget Boys 4km Race (1999-2000) - 4km, 109 runners
Sam Nusselder (1999) - 10th @ 12:42
Alex Tulloch (1999) - 38th @ 13:18
Jake Clarke (1999) - 50th @ 13:29
Riley Higgs (2000) - 63rd @ 13:51
Youth Girls 4km Race (1997-1998) - 4km, 114 runners
Hannah Woodhouse (1997) 1st @ 13:10
Jessie Nusselder (1997) - 27th @ 14:25
Rose Nadjiwan (1998) - 48th @ 14:56
Youth Boys 6km Race (1997-1998)
Steven Nadjiwan (1997) - 20th @ 20:34
Our team is on a well needed rest and will resume their winter program on Saturday, November 29th. For more information about the Coyotes, please visit our website at www.meafordcoyotes.com
[photo: The Meaford Coyotes Track Club Midget Boys team consisting of Sam Nusselder, Jake Clarke, Alex Tulloch and Riley Higgs placed 7th of 14 teams over their 4km race at the Athletics Ontario Provincial Championships in Niagara Falls on Sunday, November 16th]