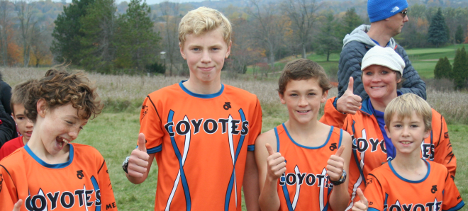 The Ontario Minor Track Association held its Provincial Cross Country Championships in Guelph at the Arboretum on Saturday, October 25th under perfect weather conditions on a relatively dry hilly course.
The Meaford Coyotes Track Club took 23 kids from grade 1-8 and was possibly it largest team ever sent to a competition - definitely to a provincial championship.
"With our increasing numbers in all ages, we fielded a team of four in four of our seven age groups. It should have been five teams, but two girls had to cancel out at the last minute. So this is very exciting for our Coyotes as our team's total membership now numbers close to 70. The top three on each team count towards the team score," explained team coach Kevin Hooper.
The Tyke Girls [2006-2007] had Charlotte Woodhouse grabbing a 6th place ribbon only 12 seconds back of 1st place. Lilly St. Marie, in her first ever provincial cross country race took 15th spot of 25 competitors in their 1500m race. Our Mite Boys team [2006-2007] ran the same 1500m loop and placed 4th overall, led by Justin Acres in 12th followed by Trip Morris in 15th, Edmund McPherson in 17th and Wes Brown in 18th of 20 runners.
The Coyote Tyke Girls team [2004-2005] also grabbed 4th spot against 9 teams in a very competitive 2km race. Only 9 seconds behind the leader, Kara Tichbourne led her team with a 3rd place medal followed closely by team mate Bethany Woodhouse earning a 10th place ribbon out of 50 girls. Sydney Martin captured 28th spot and new comer Zoey Killeen finished 30th in her first ever provincial race. The Tyke Boys [2004-2005] were one member short of have a team, but individually all had strong performances. Jeffrey McPherson Devlin Gillis and Matthew Rocque placed 21st, 22nd and 36th respectively.
Matalyn Lee led the Atom Girls [2002-2003] team against some very tough runners as she cross the line in 12th spot over the 2000m course. Teagan Davies placed 38th with team mates Zoe LeBlanc in 55th and Makayla placing 57th of 73 girls. This was also the first time competing at a provincial XC race for both Zoe and Makayla.
The Atom Boys [ 2002-2003] team stood on the podium with their 3rd place performance of 8 teams in their 2000m race. This was the Coyotes' first ever team medal at a provincial championship. Peter Ruest led the way with his best race of the season as he grabbed a 7th place ribbon, only 25 seconds behind 1st. Jacob French ran his first ever provincial race and rose to the occasion crossing the line in 14th. Matthew Nickels took 21st spot and Jamie MacCulloch placed 34th with his first provincial appearance.
Michael Ruest had his best race of the season has he finished 14th in the Sr. Boys [2000-2001] 3km race. Luc Nusselder was close behind in 16th spot of 36 competitors. The top 20 boys in this race were all very strong runners.
This race was very exciting for the Coyotes as we had a 3rd place team finish, two 4th place team finishes, a 3rd place medal and three other "top-10" performances and several personal best times. It was also a great learning experience for many on our team as they learned just how tough the competition is at a provincial level against the bigger city teams.
The team returns to action in our 2nd last race of the year as six of our high school Coyotes compete at the OFSAA High School Provincial Championships in Waterloo on Saturday, November 1st. Our winter program begins on Saturday, November 29th so if you are interested in joining the Meaford Coyotes Track Club, please visit our website at www.meafordcoyotes.com to contact the team.