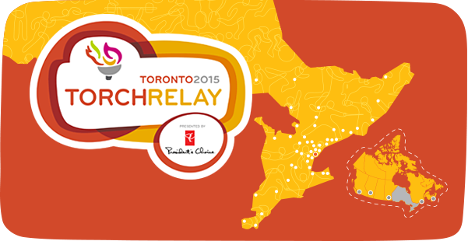 Prior to the start of the Toronto 2015 Pan American Games there will be a 41-day torch relay through more than 130 communities. The Municipality of Meaford is proud to participate as a celebration community during the Pan Am torch relay.
The Pan Am torch relay is an opportunity for 3,000 torchbearers to join the journey, carry the Pan Am flame and share the Pan Am spirit. Members of the community are being given the opportunity to contribute in the Pan Am torch relay journey as torchbearers.
If you are interested in carrying the Pan Am torch when the flame passes through the Municipality of Meaford, please visit: TORONTO 2015 torchbearer contest online. This link has access to further information, contest details and guidelines, participant criteria and the online registration form.
This contest is open from October 1, 2014 at 11:30 a.m. (ET) to December 1, 2014 at 11:59 p.m. (ET).
The TORONTO 2015 Games will be held from July 10, 2015 to July 26, 2015.