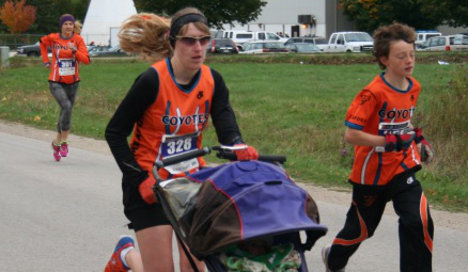 A small contingent of the Meaford Coyotes Track Club competed in the Run Blue Mountain Road Race on Sunday, October 19th. With a break from all the rain, race day was cool, but dry as over 200 runners tackled either the 5km, 10km or 21km races.
Alysha Stroud, pushing a baby running stroller, was the first female and 5th overall to cross the line in the 5km race. She clocked a time of 21:50. Matthew Nickels, who is only 12 years old, finished 4th overall and 1st in the 19 and under category with a time of 21:39. Kathy Higgs won the 40-49 age group as she stopped the clock at 24:39, placing 10th overall in the 5km trek.
In the 10km race, 14 year old John Glennie won the 19 and under category with a personal best time of 50:23. Sylvie Glennie was in a tough 50-59 age group, but she still ran a personal best time of 56:06.
The Coyotes are heavy into their competitive cross country season with three more provincial level competitions coming up in the next few weeks. Full details will be available on their website at www.meafordcoyotes.com