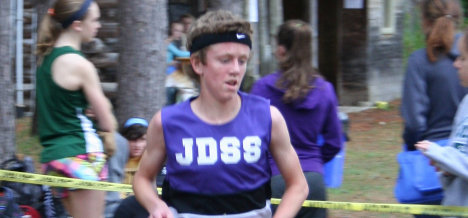 On Tuesday, May 12, Kincardine played host to the High School BAA District Track and Field Championships under cloudy, windy and cool conditions.  This meet was the first of four weekly competitions as the top four athletes in each event at the BAA's advance to the next round - CWOSSA, which is held in London next week.  
The high school members of the Meaford Coyotes Track Club were well prepared for this race and all of them advanced to CWOSSA in all of their events. 
Results of the BAA's District Championships:
Midget Grade 9 Girls:
Julia Latham [St. Mary's] - 2nd in 400m / 3rd in 800m / 3rd in 1500m
Junior Grade 10 Boys:
Sam Nusselder [SDSS] - 1st in 1500m / 1st in 3000m
Alex Tulloch [GBSS] - 2nd in 1500m / 2nd in 3000m
Jake Clarke [GHSS] - 1st in 400m / 3rd in 1500m / 1st in 4x100m relay
Senior Grade 11-12-13 Girls
Jessie Nusselder [SDSS] - Tied for 1st in 1500m / 1st in 3000m
Senior Grade 11-12-13 Boys
Dylan Pust [JDSS] - 1st in Steeple Chase / 2nd in 1500m / 2nd in 3000m
Two former Coyotes, Steve and Rose Nadjiwan, were also competing at BAA's.  The long travel time for them from Wiarton made it too hard to compete with the Coyotes, but their two years of training with the team has paid off well.  Steve Nadjiwan was 1st in the Senior Boys 1500m and 3000m.  His sister Rose was 2nd in the 800m and 3rd in the 1500m at the Senior Girls competition.  Grade 12 Coyote Hannah Woodhouse was not competing as she is still recharging her batteries after competing at the World Junior Cross Country Championships a few weeks ago.
"Congrats to our Coyotes as they advance to London next week where they will face much stiffer competition from Lion's Head all the way down to Windsor.  Our first competition for our younger grade 1-8 Coyotes is on Sunday, May 24th as they compete at the Mississauga Olympians Track and Field Meet," said team coach Kevin Hooper.