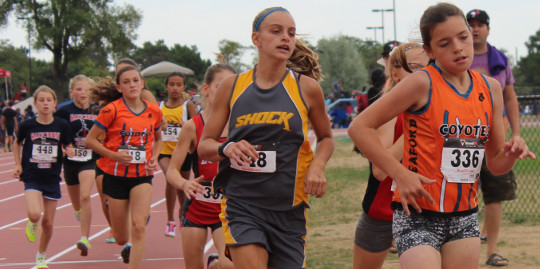 On Saturday, July 23 and Sunday, July 24, 22 members of the Meaford Coyotes Track Club competed at the Ontario Minor Track Association Provincial Track and Field Championships held at York University.
"Saturday scorched the athletes with almost unbearable heat pounding on them all day long," said club coach Kevin Hooper. "Our distance runners braved the late morning heat for their 1200m and 1500m event with afternoon temperatures hitting 35 Celsius plus humidity for our 400m runners! Sunday was much more respectable in the morning when our Coyotes were racing their 800m events with overcast clouds and 25C."
Running personal best times with Saturday's heat was almost impossible, yet 11 of the tough Coyotes did so, while there were a couple who couldn't quite handle the heat. On Sunday almost everyone recovered from Saturday's heat wave and 15 more personal best times were set.
"We also had five medal performances and 12 'Top-5' positions at the Provincial Champs," said Hooper.
Grade 5 Meaford student Kara Tichbourne led the team with two gold medals and just missing the first year Atom Girls Ontario record by 0.83 seconds that was set 20 years ago. Collingwood Grade 6 rookie Madison Calder surprised herself as she won her first provincial silver medal in the Atom Girls 800m. Grade 8 veteran Matalyn Lee of Owen Sound earned silver in the Senior Girls 1500m and Olivia Latham, a Grade 2 Owen Sound student grabbed 2nd in the Mite Girls 800m. Grade 8 veteran Coyote member Spencer Book competed in his first Provincial Champs, taking 4th spot in the 400m with a personal best clocking of 56.98.
The Coyotes are now on a two-week break before suiting up again to begin their Fall cross country season. The team's first cross country practise is Saturday, August 6. New members are welcome to join up for the season. For full Coyote race results or more information about the team, contact us at www.meafordcoyotes.com.