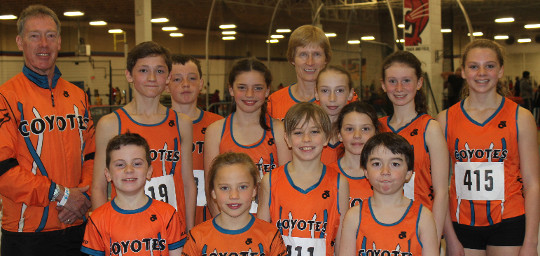 The Meaford Coyotes Track Club sent 11 members to the Ontario Minor Track Association Provincial Indoor Track and Field Championship held at York University on Saturday, April 9 and Sunday, April 10.
The competition was very strong, especially as the age groups got older. The age groups progressed in two-year increments, beginning with Pee-Wee (Grade 1 and under), up to Senior (Grade 7-8). About half of our group competing were at the top of their age group, with the other half at the bottom.
"Day One rocked for the 11 young Coyotes as we had 10 personal best performances, with the 11th missing a PB by 0.5 seconds. We also snagged three medals - one silver and two bronze," said team coach Kevin Hooper.
There were some outstanding personal best times on Day One as well. Grade 8 student Matthew Nickels knocked off over 25 seconds from his 1500m time. Grade 8 Meaford resident, Peter Ruest, dropped his 1500m time by 9 seconds. Devlin Gillis, a Grade 5 student in Thornbury, improved his 1200m time by 8 seconds. Grade 2 students Olivia Latham and Hayden Hindle both dropped their 400m time by over 5 seconds. Kara Tichbourne, a Grade 5 student of Meaford, improved her already fast time in the 1500m by almost 6 seconds, unofficially posting the fastest time in Canada this year for her age.
Day Two continued where we finished on Saturday, with 9 of our 10 runners posting new personal best times, with the addition of a 'wrestling match' on the first corner of the 200m track in one of the 800m events as the Grade 5-6 girls jostled for position. Grade 2 Owen Sound student Olivia Latham earned the club's lone silver medal for the day as she carved 10 seconds off her 800m time. Another outstanding performance came from Taryn Lee, a Grade 3 student also from Owen Sound, as she improved her 800m time by 14 seconds, and Devlin Gillis dropped his 800m time by 9 seconds.
"Both our senior boys had great improvements in their 800m as well. Matthew Nickels of Owen Sound and Peter Ruest of Meaford, both Grade 8 students had 7 second and 6 second improvements respectively," said Hooper. "All in all we had 18 personal best times of 21 chances, and brought home two silver medals and two bronze medals. Of the three events where we missed a personal best, our runners only missed by less than 1.5 seconds. Everyone competing this weekend had at least one personal best in each of their two events," said Hooper. "It has been an amazing indoor season for all of our Coyote runners, posting well over 75 personal best times and hauling home a 'truck-load' medals from Prep Meets and Provincial Champs in Toronto to National Championships in Montreal. These members are now on a well deserved two week rest before returning to prepare for their outdoor season. The rest of our 80-member team are now into full swing with their Spring program as they have already had their rest period."
For more information about the Team, check the website at www.meafordcoyotes.com.
Results [* = personal best time]
Mite Girls [2008-2009]
Olivia Latham [08]
400m - 3rd/6 @ 1:23..92*

Mite Boys [2008-2009]
Hayden Hindle [08]
400m - 2nd/7 @ 1:28.99*
Edmund McPherson [08]
400m - 6th/7 @ 1:34.95 [missed PB by 0.5 sec]

Tyke Girls [2006-2007]
Taryn Lee [07]
800m - 6th/7 @ 2:58.82*
1200m - 7th/7 @ 4:54.98*
Atom Girls [2006-2005]
Kara Tichbourne [05]
800m - 6th/35 @ 2:40.35 [missed PB by 1.5 sec]
1500m - 3rd/25 @ 5:15.33*
Payton Dodd [05]
1500m - 15th/25 @ 5:47.40*
Atom Boys [2006-2006]
Devlin Gillis [05]
800m - 11/25 @ 2:41.57*
1500m - 10th/15 @ 5:28.02*
1500m - 6th/28 @ 5:06.97*
800m - 8th/45 @ 2:28.64 [missed PB by <1 sec]
1500m - 14th/28 @ 5:15.02*
1500m - 11th/25 @ 4:52.16*
Matthew Nickels [02]
800m - 18th/26 @ 2:30.10*
1500m - 16th/25 @ 4:58.60