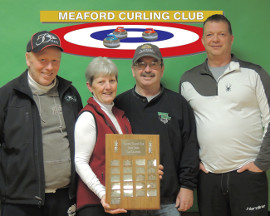 The Meaford Curling Club's 2015/2016 Skip's Choice ended on Monday, March 21. This year saw 16 teams playing in this competitive league.
Leading the 16 teams after the round robin was the Wayne Foster team followed by the Steve Naylor team and the Dale Keaveney team. On Saturday March 19 the playoffs began with the top 6 teams in the "A" Event and eight teams in the "B" Event.
On Monday evening the top eight battled for the top four championship positions, while curling club members filled the club awaiting the outcome.
"A" Event winner was the team of Steve Naylor (skip), Grace Jamieson (vice), Barry Johnston (second), and Denver Holden (lead). The "A"Event runner-up was the team of Ron Armstrong (skip) Terry Crosskill (vice), Allan Wilcox ( second) and Kevin Wiley (lead).
The "B"Event winner was the team of Jon Wiley, "C" Event winner was the team of Andy Ormsby and the "D" event winner was the team of Brent Rogers.
A good year was had by all. Now we look forward to next year.