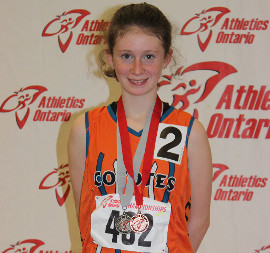 York University was host to the 2016 Bantam, Midget, Junior Provincial Indoor Track and Field Championships on March 5-6.
The Meaford Coyotes sent nine members to this competition in search of more personal best performances, and a couple of the Coyote girls were in the medal hunt as well.
Olivia Karn, a Grade 7 Horseshoe Valley student, led the Coyotes with a silver medal in the Bantam Girls 800m and a bronze medal in the Bantam Girls 1200m, setting personal best times in both events. This was Olivia's first time stepping on the podium at an Athletics Ontario provincial championship meet.
Congrats also goes to Grade 8 student Matalyn Lee of Owen Sound, who posted two personal best times and a 5th place finish in her Midget Girls 2000m.
The Coyote squad clocked seven personal best times on the weekend and others just missed their personal best times.
Owen Sound's Matthew Nickels knocked 9 seconds off his 1200m time, and 12 seconds off his 2000m, and Peter Ruest of Meaford chopped 19 seconds off his 2000m time and 3 seconds off his 1200m previous best. Both boys are in Grade 7.
"Our high school crew are now on a well-deserved two week break, while our younger top members still have a few more weeks of hard training as they prepare for their season-ending Minor Track Association Provincial Indoor Championships on April 9-10," said team coach Kevin Hooper.
If you are interested in joining the Coyote Team, their Spring session begins on Saturday, April 2. For full race results and more information on the team, visit their website at www.meafordcoyotes.com.
Results [* personal best time]
Bantam Girls (2003-2002)
Olivia Karn (03)
-800m - 2nd of 17 @ 2:28.73*
-1200m - 3rd / 13 @ 4:03.55*
Midget Girls (2001-2002)
Matalyn Lee (02)
-1200m - 14th / 48 @ 3:59:69*
-2000m - 5th of 18 @ 7:02.03*
Midget Boys (2001-2002)
Michael Ruest (01)
-1200m - 27th / 39 @ 3:52.76
-2000m - 20th of 24 @ 6:54.35
Peter Ruest (02)
-1200m - 30th / 39 @ 3:53.85*
-2000m - 18th of 24 @ 6:46.25*
Luc Nussleder (01)
-1200m - 31st of 39 @ 3:54.12
-2000m - 19th of 24 @ 6:47.29*
Matthew Nickels (02)
-1200m - 32nd / 39 @ 33:54.95*
-2000m - 21st of 24 @ 6:58.58*
Junior Women (1997-1998)
Julia Latham (00)
-3000m - 27th of 27 @ 12:49.65
Junior Men (1997-1998)
Jake Clarke (99)
-400m - DQ - touched the inside lane line @ 54.24 [*]
-800m - 28th of 49 @ 2:06.81
Sam Nusselder (99)
-1500m - 25th / 63 @ 4:17.20
-3000m - 26th of 39 @ 9:20.05