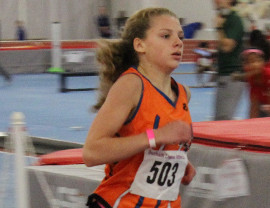 Several older members of the Meaford Coyotes Track Club ventured to York University for an Athletics Ontario Prep meet on February 7 that was held in conjunction with the Provincial Combined Events and Race Walk championships.
Almost all of the Coyotes posted personal best performances and those who didn't, narrowly missed their best times.
Top performance came from Grade 8 Owen Sound student Matalyn Lee, who ran two personal best times on her way to taking gold and silver in the Midget Girls 2000m and 1200m.
Olivia Karn, a Grade 7 student from Coldwater and Meaford's Kara Tichbourne, a Grade 5 Meaford student, took silver and bronze respectively in the Bantam Girls 1200m. Newcomer Brayden Torrie, a Grade 10 Owen Sound student, competed indoors for his first time. He posted two strong personal best times in the 800m and 3000m, and is improving each week.
In the 800m and 3000m events, only an 'Open' category was offered so our youngsters were competing against kids much older, including some university students.
"From 21 races that we competed in, a total of 17 personal bests were earned on the day. Congrats to everyone on a great day of racing and learning more valuable race lessons," said coach Kevin Hooper.
Many of the younger Coyotes return to action in Toronto on February 27 for a Minor Track Association Prep meet, and two high school members head to Montreal on February 19-21 for the Canadian Indoor Track and Field Championships. For more information on the team, check out our website at www.meafordcoyotes.com.